Are you looking for the best flooring option to finish your basement? There are several options to choose from, including tiles, laminate, hardwood, and vinyl. But with so many options to choose from, how do you select the best fit?
The type of floor you choose can add value to your space and transform it into more than just a storage space. Unfortunately, picking the perfect flooring can be difficult. Since basements are below the ground, they are susceptible to leaks and floods. This can leave you exposed to costly water damage.
Ideally, the goal is to create a dry and comfortable basement. We can help you achieve this. In this article, we will be discussing the best flooring options for your basement. Let us get started.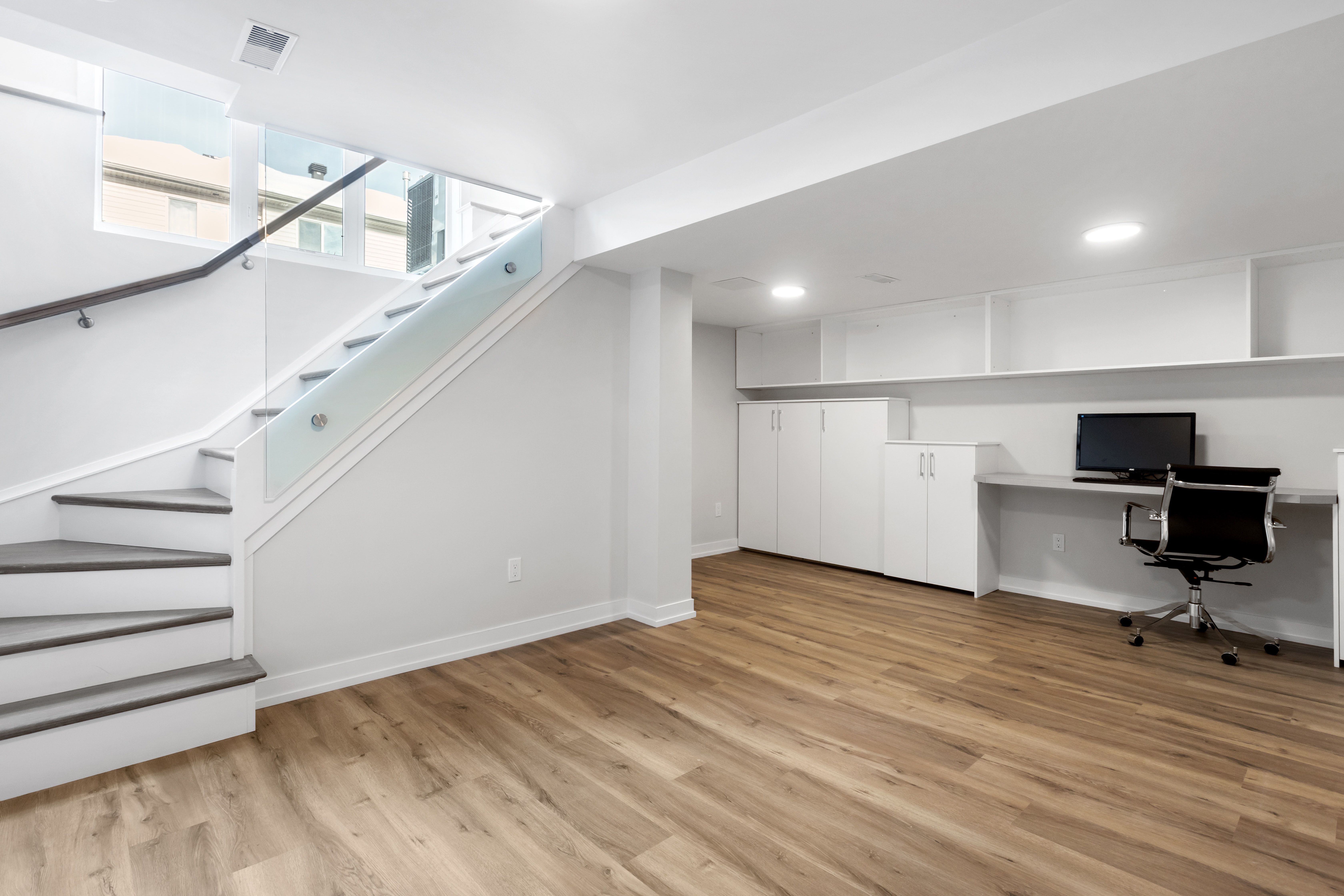 THINGS TO CONSIDER BEFORE CHOOSING A BASEMENT FLOOR.
A good basement floor should fit perfectly with your needs. Before you settle on a floor type, check if it is:
Material Options For Flooring
Now that you know what to look for when choosing your floor, here are a few options for you to consider.
1.
VINYL
Most professionals will vouch for Vinyl when it comes to basement flooring. It is considered the best option because of a lot of reasons.
Vinyl is made of PVC and other materials such as fiberglass, which are layered to make it durable.
Thanks to its plastic composition, vinyl is moisture resistant. It does not develop mold or get a musty smell.
It often looks like hardwood and comes in a large variety of colors, textures, and styles like sheets, planks, or tiles.
This type of flooring is easy to install and can be a fun DIY project. However, a professional is better at filling spaces to avoid seepage and ensure the floor is evenly layered.
The tiles or planks are installed directly on the subfloor and can be glued down or interlocked together. Either way, Vinyl is secure and unmovable once installed.
The material is also easy to clean and only requires soapy water to remove dirt and grime and keep the colors bright. Remember to avoid bleach and ammonia products.
PROS
Inexpensive
● Easy to clean
● Moisture resistant
● Easy to install
CONS
Has no impact on home resale value
● Shorter lifespan than wooden floors
2.
CARPET
Carpets can make any room cozier, and they are more comfortable underfoot.
Sadly, carpets are not moisture resistant. They often develop mold and smell a bit musty once the water soaks in.
PROS
Warm
● Makes a room quieter
CONS
Difficult to clean
● Not water-resistant
3.
LAMINATE
Laminate is a multi-layered synthetic material known for its durability and scratch-resistant nature. It looks like hardwood, giving it a warm aesthetic.
Laminate flooring for basements is easy to clean and maintain. Sadly, laminate may not be the best pick for basement flooring.
Unlike Vinyl, laminate is not fully waterproof. It can withstand moisture, but requires professional installation to prevent water from seeping in between the planks
PROS
Inexpensive
● Comfortable to stand on due to the underpayment
● Easy to install
CONS
Not as moisture resistant as vinyl.
4.
ENGINEERED HARDWOOD FLOORING
Engineered hardwood floors are not to be confused with traditional hardwood floors. They offer the same beauty and warmth as hardwood, but are more durable and water-resistant.
This type of floor is used in many Canadian homes and can increase the value of your home. Unfortunately, any moisture or leaks can result in warping and swelling.
PROS
CONS
Prone to warping
● Costly to install and replace
5.
FLOOR TILES
Next to Vinyl, tiles are a great option for basement flooring. They are moisture-resistant and easy to clean and maintain.
Plus, they come in a wide range of sizes and designs that give your basement a posh finished look.
But remember, tiles attach directly to the foundation, making a room feel colder during those harsh Canadian winters.
PROS
Water-resistant
● High-end designs
CONS
Require professional installation
● Cold to the touch
● Expensive
OUR RECOMMENDATION
While all these materials can work for you, we recommend using Vinyl tiles, sheets, or planks for the best finish.
Even though tiles can do the trick, they are an expensive option and an inadequate deterrent to the cold.
TIPS: KEEPING YOUR BASEMENT DRY.
Unfortunately, even the best flooring for basements cannot make up for mistakes made before installation.
To prep your basement for flooring, we recommend carrying:
Carry out a moisture check to identify any leaks before laying your floor
2. Avoid using real hardwood. It is not waterproof and can make water damage worse.
3. Get a professional to seal any leaks on your foundation, walls, and pipes.
4. Ensure your basement floor is even by creating a subfloor from concrete to even it out.
GET STARTED!